Adding event categories with different colors - though not required - will greatly enhance the views of the calendar. Examples of possible Categories are 'holidays', 'appointment', 'birthday', 'important', etc.
The Categories page shows a list of all categories, and categories can be added, edited and deleted. The initial installation has only one category, named 'no cat'.
When adding / editing events all categories will be shown in a drop down menu. The order in which categories are displayed in the drop down menu is determined by the Sequence field.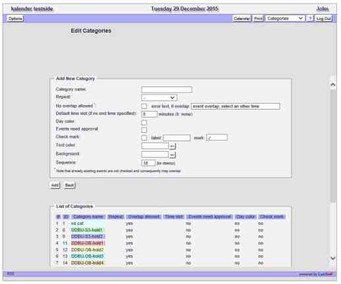 When adding / editing categories a 'repeat' value can be set; events in this category will automatically repeat as specified. If a category will be seen in public view or or not, is managed from the "user group"
One or two check marks can be activated which will be displayed in front of the event title for all events in this category. The user can use this check mark to flag events, for example, as "approved" or "completed".
The Text color and Background fields define the colors used to display events assigned to this category.
When deleting a category, the deleted category remains available for the events assigned to this category.