This is an example of a site for a restaurant.
It is about the booking part where the calendar are used.
It shows something about the possibilities when using parameters.
Special on "book table" You can see, that it is possible to shift between day-view and week-view from "outside".
You can see it by choosing day or week, and click on one of the tables or ( in the kitchen ) all tables.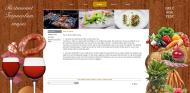 You can also see how the selection of categories can be chosen when "calling" the calendar.
To find data to show, You have to choose an approriate date with the date-picker on page "register to book".
Visit the site by clicking on the image.