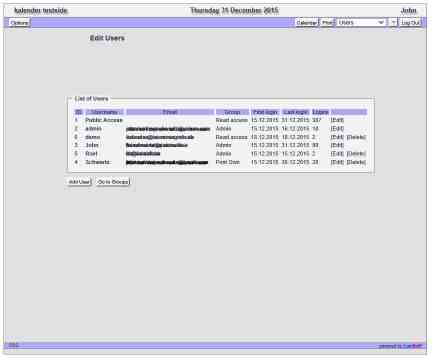 Via the Administration drop-down menu user(s) with manager rights or the calendar administrator can add and edit user profiles. Per user the name, e-mail address, password and the user group can be specified. As described above, the group determines the access rights and the available event categories. It is important to specify a valid email address for the user to be able to receive email notifications of due dates of events. When defined users log in to the calendar they can specify their default user interface language. Thereafter, when a user logs in, the user-interface will be displayed in the specified language.
The initial installation has two users defined. One is the Public Access user, who initially is assigned to the "Read access" user group and the other is the calendar administrator, who is assigned to the "Admin" user group and has all access rights.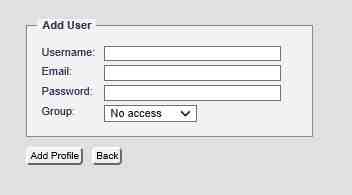 Unless the calendar administrator has given "View" access (via the "Read access" user group) to Public Access users, users must log in to use the calendar using their name or email address and password. Depending on the group to which a user has been assigned, a user can have different access rights.
If the administrator has enabled user self-registration on the Settings page, users can register themselves via the Login page. Self-registered users will automatically be assigned to the user group for self registered users specified by the administrator on the admin's Settings page and consequently will have the access rights specified for that user group.