You can choose a date by typing in the date in the datefield OR, Yoy can click the left-arrow to the right of the date field.
You then see a date-picker calendar where You can click on a date, and then this date is inserted into the date-field.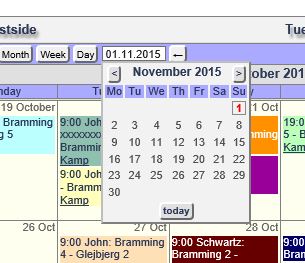 In the date-picker calendar You can navigate back and forth a month, by clicking the < and >.
If You have been using the calendar for a long time, and now want to go 3 years back to see an event-month, You can change the year in the date field, and by clicking the left-arrow You will placed in the date-picker calendar for that year.
You can also click "today" in the date-picker and then the date is set to the actual date.
The different views has relation to the date-field.
e.g. in monyh view, the calendar looks a number of days back from the date, and a number of days ahead according to the date.
It also goes for the other views ( except day view of course ) and for the upcoming and todo lists.
Therefore - take care of which date are shown.
In the calendar settings, You can choose between letting the calendar only show the date for the first of the month and then only the daynumber OR let the calendar show the full monthname for the first of the month and then the monthname in abbreviated form
30
1 December
2
3
OR
30 Nov
1 December
2 Dec
3 Dec